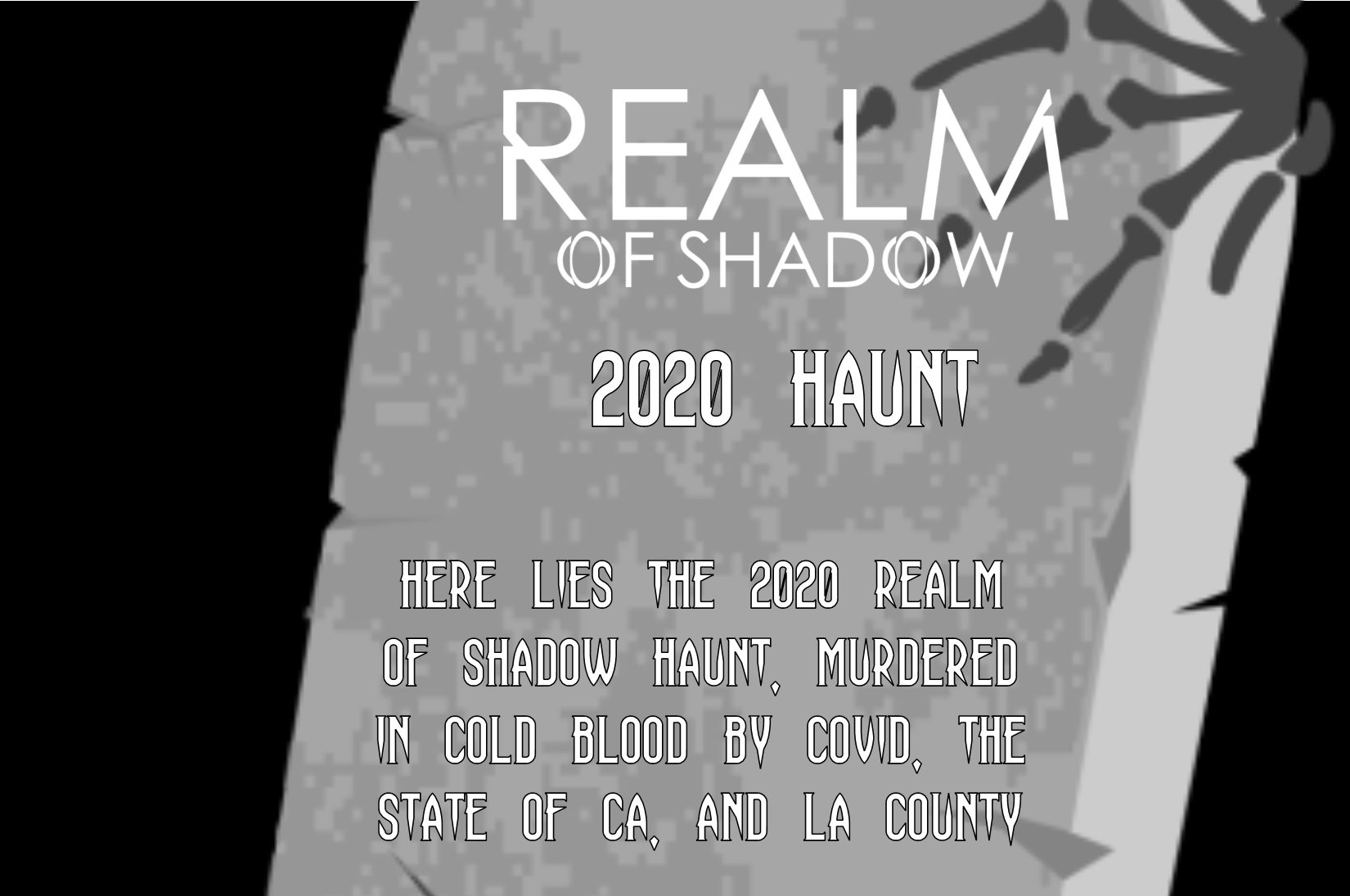 2020 HAUNT SCHEDULE UPDATE
DUMB, DUMB, DUMB!!!  As I'm writing this, our collective ROS Haunt heart is breaking…
Well…here goes.
Due to the recent release of Halloween Covid guidelines issued by the County of Los Angeles in which haunted houses and attractions like ours have been banned, we have no choice but to cancel our 2020 season.  This is after hours and hours of planning and re-working of our haunt to accommodate all the Covid rules and protocols.  I guess the State's and County's Covid protocols only work when they feel like it.  Buyer beware.
So, yeah…our hearts are sick over this decision, but unless a miracle happens between now and Halloween, Realm of Shadow will have to leave its gates closed for 2020.  This is how we're going to move forward, though.  We have decided to continue with our build through the season.  After all, we believe that miracles happen.  If said miracle does happen, well, then we'll figure out if any kind of opening is possible (but with costuming and actor needs, this is really a longshot.)  Anyway, the main objective in continuing our build will be to prepare for the 2021 Midsummer Scream Convention's Hall of Shadows.  So, we'll build it, test it, and then number and diagram every piece, and then pack it up in storage.  This way, when June comes around, we can quickly get the haunt up and built in the Hall of Shadows for the convention.  We are sooooo looking forward to seeing all of you there, and then when Halloween 2021 rolls back around.
Never fear.  Realm of Shadow and Hamre Manor will rise again in 2021, because…
Scaring is caring, right?
Thank you for your continued love and support.
The ROS Haunt Team
OUTDATED NEWS.  SEE UPDATE ABOVE
BIG ANNOUNCEMENT
REALM OF SHADOW IS PLANNING 2020 OCTOBER DATES!
With our presence at the 2019 Midsummer Scream Convention and our regular Halloween haunt dates, we reached close to over 4000 people last year.  Additionally, we were able to reach out to our own local Bellflower community like never before – each person receiving fun, kindness, and the truth within our gospel tracts.  Coming into 2020, we were so excited about building upon all our new relationships within the Bellflower and haunt communities at large.  In fact, coming into March, we had created our new 2020 haunt theme and had planned our layout for the 2020 Midsummer Scream Convention. And then…COVID-19.  Devastating.  Our prayers are with all of you who have been touched by the effects of the virus.
But…
In the middle of all the craziness and uncertainty surrounding us, Realm of Shadow has been behind the scenes, meticulously figuring out a way in which to open our gates for the 2020 Halloween Season for all of you Shadow Walkers. We are thrilled to announce the coming of Hamre Manor – 665 Diabolki Way!  (Cue thunder, lightening, and diabolical laughter.)  Seriously, though, we believe that we have been able to come up with workable plans to address sanitation, mask requirements, social distancing, and crowd control at our new haunt location in Bellflower. At present Realm of Shadow plans to be open Friday 10/23, Saturday 10/24, Sunday 10/25, Friday 10/30, and Saturday 10/31. Please click here to view a summary of our 2020 Covid-19 Haunt Guidelines.
We are convinced of the great need to reach out to people within the community at this moment in time.  That is what our outreach is all about.  We hope you support ROS in these strange times, especially as we continue to work toward providing a safe Halloween season space in which we can continue to reach out to our community in need.  Thank you for your help and support.  Let's reach as many people as we can in 2020!
Be sure to check out the story and history behind Hamre Manor – 665 Diabolki Way as the macabre path of Professor Nathan Hamre moves forward – enveloped into the Shadow.
Scare you soon!
COME WALK THE PATHS OF THE REALM…
IF YOU DARE!
Everyone lives in the space between the Light and the Dark – The Realm of Shadow.
The Realm of Shadow is a community Halloween haunted attraction, and is open to the public for select nights during the month of October.  It is an elaborate "gore-free" haunted maze, and focuses on scares of extreme creepiness.  Parents are encouraged to walk the Realm of Shadow with their children or by themselves…if they are brave enough (bruuughhahaha!)  Souls 10 and up may enter by themselves, but let's face it, it's more fun for your kids to see adults jump, scream, and get scared
OPEN FRIDAY 10/23, SATURDAY 10/24, SUNDAY 10/25, FRIDAY 10/30, AND SATURDAY 10/31, 7:30 – 11 PM.  Check out the rest of our website for more info, and take the challenge to become a Shadow Walker in 2020.